(Some of these products were sent to me as part of the Open.Journey Creative Team but all opinions are my own. This post does contain affiliate links.)
Hello everyone! Christmas is right around the corner which means it's time for all the Advent themed devotional kits! I am so excited for the newest release from Open Journey which includes the "Wait For The Lord" kit. Ingrid takes us on a beautiful journey "as we prepare, either for the long run or just in anticipation of Christmas during Advent, our wait is filled with a pretty awesome joy. It is hopeful.
We are given so much assurance in the Word and in our hearts as well through the Holy Spirit."
Check out my unboxing video to see the kit in more detail!
---
I haven't been shy about sharing just how much I love Ingrid's art style and her heart for the Lord. I recently stumbled upon an article that was written about her a few years ago and thought you'd enjoy reading into the inspiration behind her art and a little bit of her story. You can find the article here (https://bit.ly/2ULmLut). It's so neat to look at her art after reading that and seeing all of the little details that she incorporates. This kit is full of a variety of products to journal with and each one is their own little piece of art.
The physical kit includes:
+ Devotional with illustrations in a folder form ( 8×4, 15 pages)
+ 6 clear sticker pages with coordinated artwork and lettering (four 8″x4″ , two 8″x2″)
+ 4 illustrated journaling premium card stock cards 8×4
+ 3 white sticker illustrated full pages (two 8×4 and one 2×8)
+ 13 die cut artwork pieces
+ 8 journaling cards (3×5)
+ 4 Word Focus cards
+ glassine envelope
+ 16 tabs
+ note from the artist
+ illustrated folder 8×4
+ 4×6 stamp set with 8 stamps
+ sewn fabric pouch, ribbons
---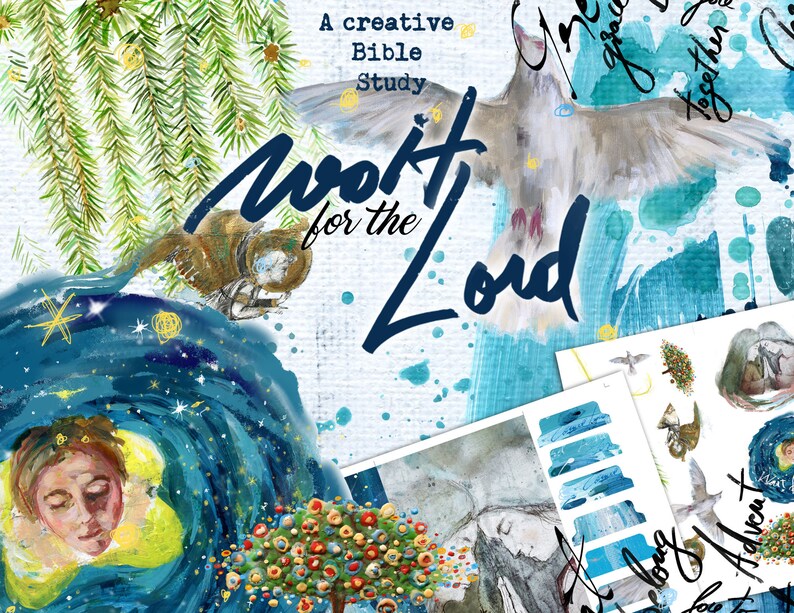 Open Journey also offers the "Wait for the Lord" kit in digital format! This is great for those of you who like to print your own supplies. When you purchase the physical kit, you will receive an email with a coupon for 50% off the digital kit so you can print more of the elements for personal use.
---
With this release, there are also some new vinyl stickers and cards. These would be great stocking stuffers!
---
Ingrid brought back the beautiful "Receiving the Gift" set of cards. I have mine displayed in my office in an open frame year round because the artwork is just stunning. Each card includes a name of Jesus and a verse.
---
Here are a few of the different mediums that I've pulled to use as I work through this devotional kit. I love getting messy when working through these kits but even more than that I love all the opportunities to do verse, word, and history studies.
Head on over to the Open Journey shop and grab your copy of "Wait for the Lord" and maybe some fun stocking stuffers and Christmas gifts.
PRODUCTS
Until next time!
❤ Lindsey