(Some of these products were sent to me as part of the Open.Journey Creative Team but all opinions are my own. This post does contain affiliate links.)
Hello everyone! There are some new kits and things over in the Open Journey shop that I wanted to share with you! This post will be focusing in on the new "Psalms of Praise & Thanksgiving" kit but I will also have a post for the Advent kit, "Wait for the Lord". I can't choose which I love more because the content in both are absolutely AMAZING!
In November, a lot of us take some time to focus on gratitude and thankfulness. Ingrid did an amazing job with this devotional as she has us focus in on Psalm 1 "which explains beautifully the importance of meditating and staying in the Word" and also has us look at "the goodness of several Praise and Thanksgiving Psalms!" 2020 has brought on a myriad of challenges and feelings…those feelings are ones that are also expressed by the writers of the Psalms as they faced difficulties during their time. What better place to find comfort and guidance than the Word of God!
Check out my unboxing to see the kit and new release in more detail!
---
There is so much goodness hand packed into this kit. Whether you want to branch out and play with mixed media or if you are little less experienced with creating art, there is something for everyone and I'm sure you'll find inspiration as you work through the devotional kit.
The physical kit includes:
+ Devotional with illustrations in a folder form ( 8×4, 15 pages)
+ 7 clear sticker pages with coordinated artwork and lettering (four 8″x4″, one 3×8 and one 8″x2″)
+ 14 white sticker washi strips 0.75×4
+ 6 illustrated journaling premium card stock cards 8×4
+ 6 white sticker illustrated full pages (four 8×4 and two 2×8)
+ 30 die cut artwork pieces
+ glassine envelope
+ 1 cut apart hand lettered words 8×2
+ 16 tabs
+ note from the artist
+ illustrated folder 8×4
+ 4×6 stamp set with 6 stamps
+ sewn fabric pouch, ribbons
---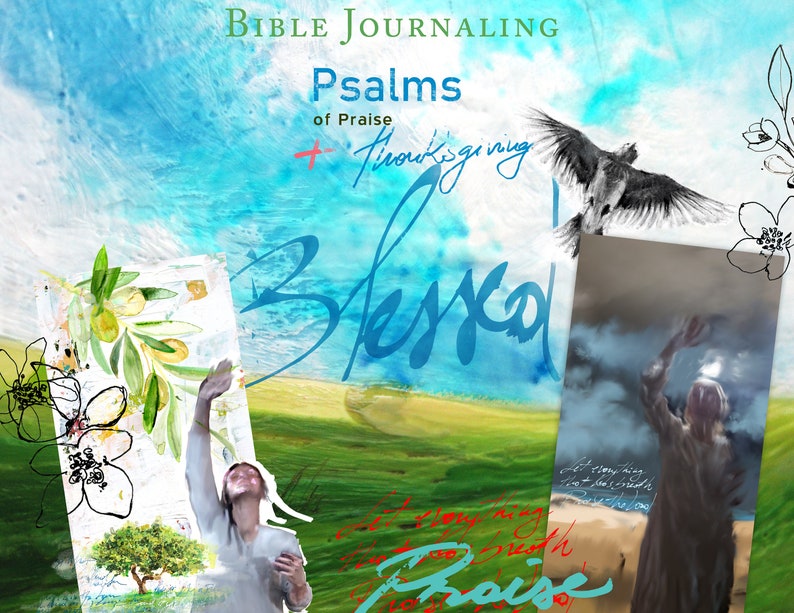 I love that Ingrid offers her kits in both physical and digital format! When you purchase the kit in physical format, she will email you a coupon code to get the digital version 50% off which allows you to print more of the artwork for personal use.
---
In addition to the kit, there is a set of 40 Bible Verse Cards. These would be great to use as an add on to the kit or to gift to others who might need some verse encouragement. Each card is it's own unique piece of art work and are printed on high quality cardstock.
You have plenty of options for ways to enjoy Ingrid's art, like these postcards and vinyl stickers. I love adding the stickers to my thermos and taking a little piece of Ingrid with me where ever I go 😉
---
The products from Open Journey are always so colorful and you really could use just about anything with them but here are a few different mediums that I pulled to color match this current kit. Her art inspires me to get messy, play, and explore with new techniques and mediums.
It's not too late to grab your copy of "Psalms of Praise & Thanksgiving" and join in with us as we study all of the richness that Ingrid brings us in her devotional content.
PRODUCTS
Affiliate links are used
Until next time!
❤ Lindsey