(Some of these products were sent to me as part of the Open.Journey Creative Team but all opinions are my own. This post does contain affiliate links.)
Hello everyone! Open.Journey just listed some beautiful and unique products in her Etsy shop this week. There's a new devotional kit, "Transfiguration", as well as some fun word prompt cards. Checkout my review video below to see everything in more detail.
---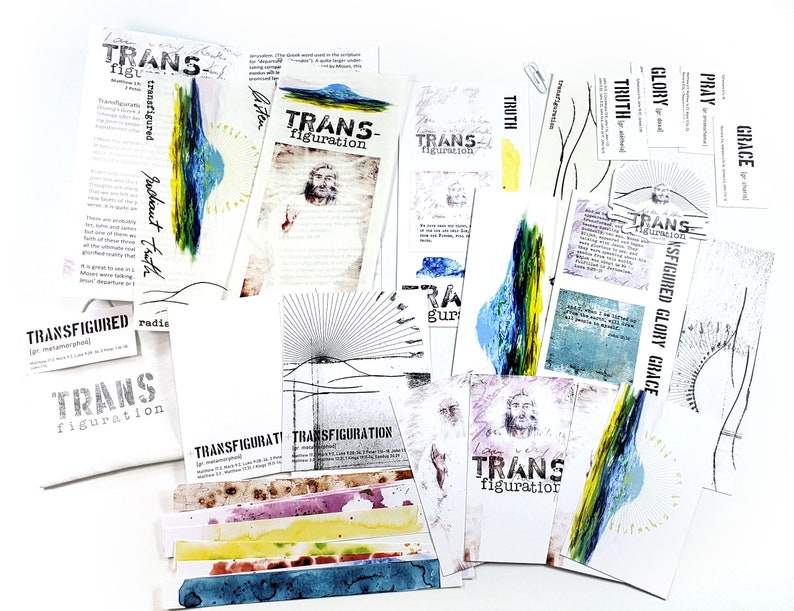 The Transfiguration – A refreshing focused study and meditation on the amazing meaning of the Transfiguration of our Lord, witnessed by His three disciples and how we witness and embrace it in our hearts.

The creative bible study kit brings you a devotional folder containing artwork for use in your journaling and study printed on card stock and clear sticker paper, along with Word Focus small and large cards. – Open.Journey
KIT INCLUDES:
+ Devotional with illustrations in a folder form ( 8.5″x4.5″)
+ 2 cut-apart card stock pages
+ 2 illustrated bookmarks
+ 3 clear sticker pages with coordinated artwork and lettering (two 8″x4″ and one 8″x2″)
+ 9 white sticker washi strips
+ 4 illustrated journaling cards
+ 3 Word focus large journaling cards 5″x4″
+ 5 small Word Focus journaling tickets 3″x1.5″
+ 1 vellum envelope
+ 1 vinyl sticker
+ sewn fabric pouch, ribbon
*BONUS: When you purchase the physical kit, you will also receive a coupon for 50% off the digital version if you'd like to have more elements to reprint and use as you work through this study.
---
Ingrid has also created a variety of "Word Focus" cards to use in your journaling projects! I love how simple these are which allows for a wide variety of uses. You could use the larger cards to create a mini book and do a word study and the smaller cards can be used for titles or extra embellishments to your projects. I can't wait to see how you all use these cards and customize them with your own artwork!
The kits from Open.Journey always inspire me to get messy with mixed media techniques and "Transfiguration" is no different. Here are a few of the different mediums that I've pulled to color match the kit.
The story of Christ's transfiguration is one that I haven't spent much time studying so I'm really looking forward to working through this kit that Ingrid has created for us. Head on over to the Open.Journey shop to grab the kit in either physical or digital form and join in with us as we look at this amazing story in the Bible!
PRODUCTS
Until next time!
❤ Lindsey