(Some of these products were sent to me as part of the ByTheWell4God Creative Team but all opinions are my own. This post does contain affiliate links.)
Hello everyone! Let's take a look at the newest release, including the "When God Asks A Question" devotional kit, from ByTheWell4God.
"When God asks a question in the Bible, it's not because He doesn't know the answer; it's because He wants us to learn something about ourselves!"
This statement by my Judi's husband in his Sunday School class stuck in her mind and took her on a hunt through Scripture to discover the questions God asked. Beginning in the Garden of Eden ("Where are you?"), and on through the ministry of Jesus ("Saul, why are you persecuting Me?"), these questions convict, challenge, comfort and encourage us!
So join us as we study just a handful of the questions God asked, and is still asking us today. You, too will be blessed! – ByTheWell4God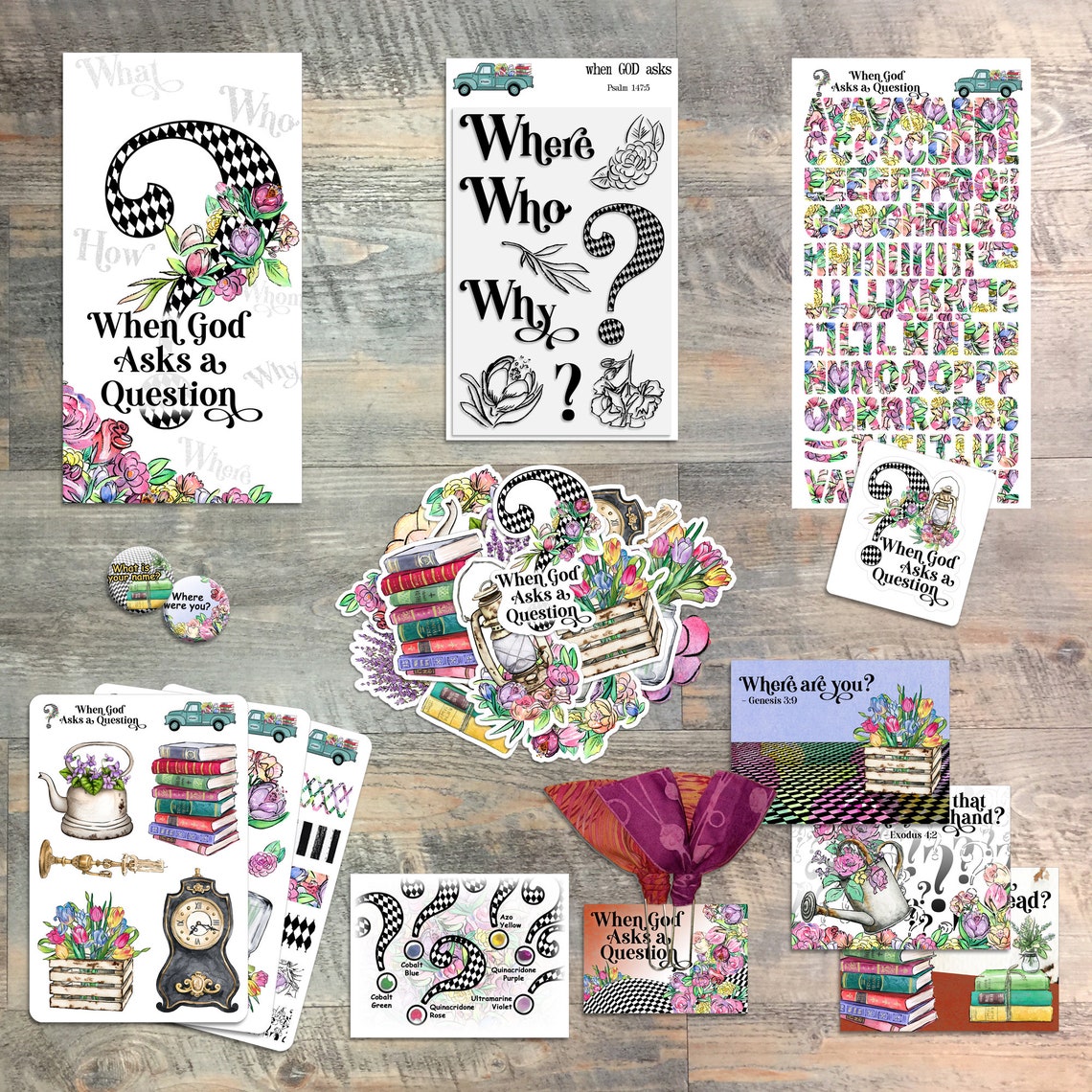 Product Details:
1 coordinating canvas drawstring pouch
1 devotional booklet
1 4×6 clear stamp collection
3 journaling cards
3 4×6 clear sticker sheets
1 set paper pieces
1 custom Daniel Smith watercolor dot-card
2 coordinating clips
2 buttons
1 4×8 custom alpha sticker sheet
1 2×3 kit sticker
There are also several other items that will coordinate with the kit this month including: Clear Alpha Stickers, Tile Alpha Stickers, Stencil, 6×6 Papers, and TN Inserts!
The new stamp releases are always a favorite of mine and you can get these stamps for a discounted price if you order them with the devotional kit during the presale. This release is extra special since I got to design the Lindsey Splatters stamp!
I created a bonus video showing some tips, tricks, and ideas for using these new sets in case you need a little inspiration.
The alphabet stamp set this month, Simon, is a full 6×8 set with this super fun and playful font! (This set isn't available at a discounted price during the presale)
I'm planning on playing with quite a bit of color this month so here are a few different mediums that are color matched to the kit for you.
I hope you will head on over to the ByTheWell4God shop (affiliate links below) and grab the newest kit, "When God Asks A Question", and join in with us as we explore some of the questions that God prompted throughout the Bible!
PRODUCTS
Until next time!
❤ Lindsey