(Some of these products were sent to me as part of the ByTheWell4God Creative Team but all opinions are my own. This post does contain affiliate links.)
Hello everyone! Who's ready for a new release from ByTheWell4God?! Today I'm sharing a look at the March release which includes the newest devotional kit, "Greener Grass". You can find my detailed unboxing video below as well as links to all the new products at the end of this post.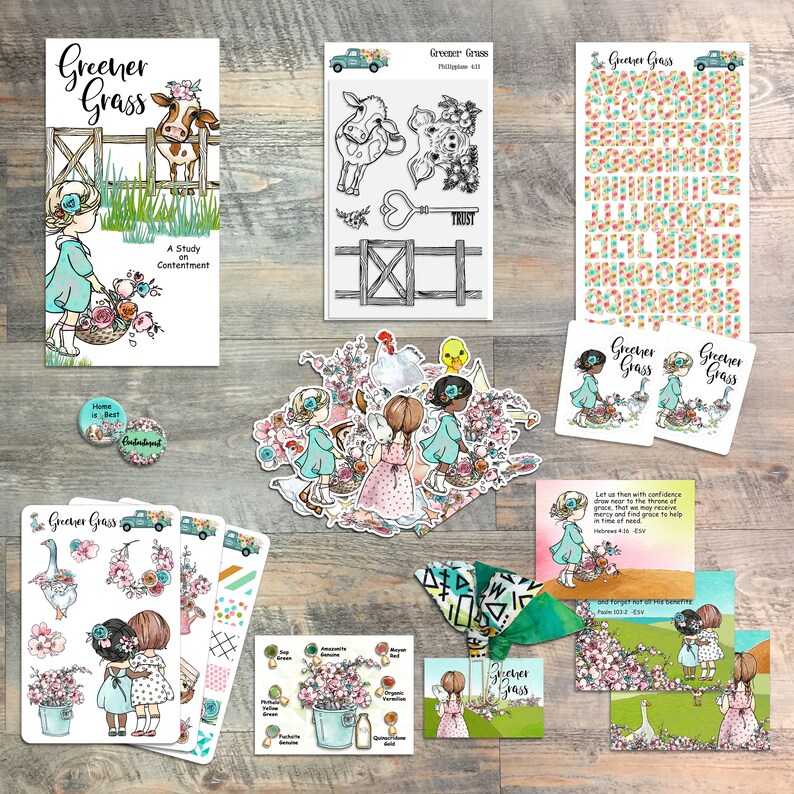 I'm sure you've heard the expression, "The grass is always greener on the other side of the fence." It conjures up a picture of a cow standing in a field of grass, stretching its neck through the fence, trying to reach the grass just out of reach. For the believer, this discontent, this longing for something else seems like a small thing. Ah, but its consequences are many! A consistent attitude of discontent has all kinds of ramifications for the child of God. Lack of contentment will stunt our spiritual growth, cripple our ministries, snatch away our trust, and squelch our joy. Join us as we open our hearts to the Word of God regarding the issue of contentment. -ByTheWell4God
KIT INCLUDES:
1 coordinating canvas drawstring pouch
1 devotional booklet
1 4×6 clear stamp collection
3 journaling cards
3 4×6 clear sticker sheets
1 set paper pieces
1 custom Daniel Smith watercolor dot-card
2 coordinating clips
2 buttons
1 4×8 custom alpha sticker sheet
2 2×3 kit stickers
As always, there are lots of new goodies in the shop to coordinate with this month's devotional kit. You can find blank TN inserts, alphabet stickers, 6×6 patterned papers, and several new stamp sets.
There are also some new journaling Bibles listed in the shop. I grabbed this beautiful NIV Artisan Collection Journaling Bible to use for sermon and Bible study notes but it could also be used for art journaling.
The "Greener Grass" devotional kit has me yearning for warmer Spring days with the bright colors and fun florals. Here are some of the mediums that I've pulled to go along with the kit this month.
The pre-sale for this kit did sell out but you can purchase from the restock listing which will begin shipping 3/6/2020. So head on over to the ByTheWell4God Shop, grab the new kit and some coordinating goodies, and join us as we study what the Word of God says about contentment.
PRODUCTS
Until next time!
❤ Lindsey